During the CCF Fifth phase campaign, British Commonwealth Brigade engaged in several critical delaying actions. In one, the battle of Kapyong, two Commonwealth battalions and a tank company from the US 72nd Tank Battalion withstood attacks at least as determined as those which routed the entire ROK 6th Division. Third Battalion, Royal Australian Regiment (3RAR) particularly distinguished itself on that occasion, as on several others.

29th Commonwealth Brigade Infantry and Centurion tanks also held several key positions along the Imjin. They were attacked there by elements of the CCF 187th and 188th Divisions, hitting the Gloster battalion's Solma-ri positions particularly violently, but also the Northumberland Fusiliers and Royal Ulster Rifles in great force as well.

After very stubborn resistance, the British were finally forced to withdraw in order to avoid encirclement by the large enemy infantry force which, with other CCF divisions was assaulting all of I Corps, with its 24th, 25th and 3rd Infantry Divisions. The Royal Ulster Rifles and Northumberland Fusiliers successfully withdrew although with severe casualties, but the Gloster Battalion was surrounded and surrendered. Including support forces, the Glosters originally numbered 773 officers and men. Glosters suffered about 243 KIA and MIA during the Imjin fighting, and on being surrounded surrendered 21 officers and 509 men, of whom 8 officers and 145 men had been wounded.







U.K., Canadian, Australian and Belgian units of the British 29th Brigade at parade rest as the Presidential Unit Citation is awarded to the British Gloucestershire Battalion.

General Van Fleet pins the PUC award on Glosters Sgt. Major Blackford (left).
The next phase, commanded by General Ridgway, inflicted enormous casualties on the CCF stopping only by orders from Washington, once a defendable line of resistance was established across the entire Korean Peninsula. This MLR, mostly north of the 38th parallel, was about where the Armistice was finally agreed upon, but about half the UN casualties occurred while the Armistice discussions dragged on in Panmunjom.

The United Kingdom made significant contributions to UN forces throughout the Korean War. The final casualty lists show 710 killed in action, 2,278 wounded, 1,263 missing in action (presumed lying in unnamed graves), and 766 captured, for a total of 5,017. All the Commonwealth Division forces consistently fought with skill, determination, and stubborn courage.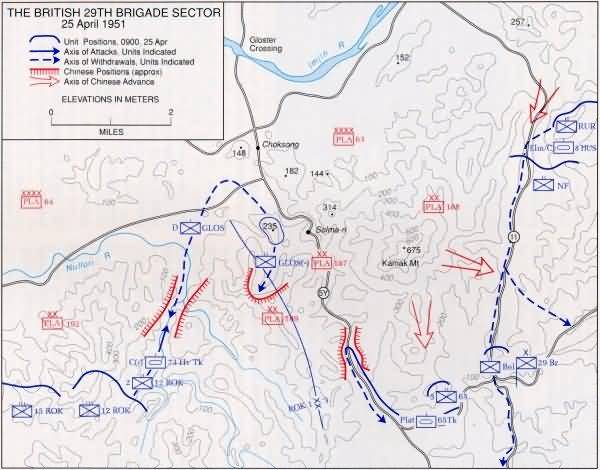 ---
Causes of the Korean Tragedy ... Failure of Leadership, Intelligence and Preparation
---
The Foundations of Freedom are the Courage of Ordinary People and Quality of our Arms
---