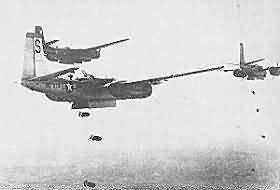 Squadrons of B26 Invaders pounded the exposed CCF when they deployed in the open in their attacks.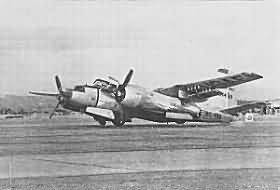 This B26 had its hydraulic system jammed by ground fire and is making a successful belly-landing.
CCF and NK ground fire developed to a maximum in late 1952, but was extremely accurate all through the war. Here, Lt. Col. Gordon Blood, commander of 49th Fighter-Bomber group smiles at the huge hole in the right wing of his F-84 Thunder jet, apparently hit during a bombing run over North Korea in 1952.
He could smile at it then, but he didn't smile much at the time he was hit. It was a little like being in a train wreck.