HOMO GO
There were many expressions that were a mixture of Pidgin English and Okinawan that had become a part of everyone's every day language in our six month tour, but none was used more than " pretty soon Homo Go", to reflect that you were a short- timer now. And some "Rock Happy" American military personnel had gone so far "native" enough to find themselves reflexively and quite naturally enough squatting down on their haunches as they talked even to each other, as did the native Okinawans to a person, during any casual conversation. Another expression very commonly used, and even painted on one of the B-29s as nose art was "FUJIGMO" ... an acronym for "F- - K You Jack, I Got My Orders!" I understand that there were later versions of that in Viet Nam ... FIGMO! All mean the same, and everyone understands ... HOMO GO!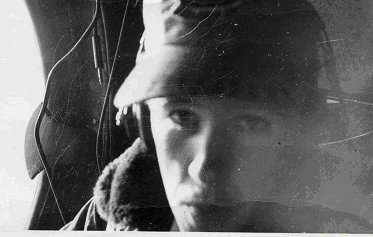 After twenty some missions, I was ready to go home and each of the last few became very much more difficult than all of those before, no matter what the target ... everything seemed worse, the aircraft, the weather, the opposition ... the odds ... and this was 2 weeks before my 20th birthday ... and I missed my "girl" ... and family of course!
On December 15th we received orders under "PROJECT CONDOR", priority orders to try to get us home for Christmas! On December 21st, 1952 we had packed our B-4 and duffel bags, all of my worldly possessions, and loaded aboard an Air Force Bus to travel from Kadena AFB to Naha AFB about 30 miles south. Packing to leave had been easy ... everything we owned in one bag, two pair of shoes-dress and work boots - no TV, no radio, no flying gear other than an old throat mike, a few modest souvenirs ... and a few quick "farewells".
With the very forlorn sight of Frank Skarritt left behind at our departure, still recovering from wounds over Suiho, I think there was somewhat of a dampening of spirits and boisterousness ... until the sight of our winged chariot waiting for us at the MATS (Military Air Transport Service ) Operations Terminal area of Naha. This great silver ship, a C-124 Globemaster, commonly and affectionately known as "Old Shaky", for its tendency to vibrate with a "canning" or rippling effect along its broad flat fuselage side surfaces, looked to us like the Queen Mary ... our Angel of Mercy off "the Rock"!
The C-124 Aircraft Commander urged us, six returning B-29 Combat Crews totaling 66 men, to a rapid loading of equipment, duffel bags, and crewmembers, since there was an alert pending regarding the possible grounding of ALL C-124's in the world due to a very recent crash in Japan and another in Alaska with significant loss of lives.
(I was at Johnson AB in Japan then, when I believe it was a C124) crashed on takeoff from Tachikawa with all lost. Was a great shock. KMacD Email 3/28/05).
His urgings were understood in the light of the fact that if we were off the ground and U.S. bound over the Pacific there would be no grounding before Hawaii ... .and that once there, the crew would take the absolute MINIMUM prescribed crew rest and be back aboard and prepared for takeoff at precisely the minimum required 18 hours ... WHEELS UP! This was Christmas week and EVERYONE wanted to be home ... and we had a chance of making it with the day gained in crossing the International Dateline making our departure date Dec. 20th STATESIDE TIME! NO ONE WAS LATE!!!!!!!
We were no sooner off the ground than our Navigator Bob Gray, a visual and character double of the latter day Bob Crane of "Hogan's Heroes Fame", revealed the contents of his overstuffed ditty bag which he had guarded on his lap as if it contained precious jewels ... it did ... miniature bottles of Seagram's V.O., Canadian Club, Vodka , ALMOST enough for a trip from Okinawa to Midway, to Hawaii and California, and at one point on the trip I awakened from sleeping on some cargo crates long enough to see that Bob was the ONLY one of the 66 B-29 Crewmember passengers sitting upright in the very uncomfortable canvas sling type seats along the side of the droning fuselage, happy as a lark ... drunk as a skunk! At Hickam Field we went through customs and a customs agent told Bob to lift a duffel bag that he was dragging and to open it on an inspection counter. Bob struggled for several seconds trying to get hold of the clumsy, jammed , and very heavy bag ... with the sound of his grunts interrupted by the clinking of glass, bottle against bottle, and the Customs agent finally disgustedly said "OK Lieutenant, forget it ... just move on and don't break anything here" ... Bob looked like a Cheshire cat!
After we were off the ground and well into our final leg from Hickam Field, Hawaii, to San Francisco and Travis AFB, we were advised that a directive HAD been issued grounding ALL C-124s for an investigation and inspections! And that very short trip ... about 10 extremely pensive hours ... ended in an explosion of excitement and noise with a face at every window vantage point as we made the obligatory ceremonial pass over the Golden Gate bridge and onto final approach at Travis! And Bob Gray, our Navigator was still awake and holding his Ditty Bag on his lap with its precious cargo ... by now BOTH greatly diminished!
We were processed through Travis in what must have been a record of only a few minutes and taken by bus to San Francisco Airport and were confronted with mobs of civilian and uniformed military personnel all trying to make it home by Christmas, with lines out the doors and snaking down the sidewalks, reminiscent of World War II travel. With sighs of exasperation and resignation we virtually gave up any hope of getting out of there for perhaps days, even though most of us had purchased open tickets while still on Okinawa. Within a very few minutes of our having joined the long lines, an American Airlines Agent, clipboard in hand, came down the line in a quick survey ... "Where ya' goin' Airman?" "Philadelphia!" "How 'bout Washington D.C., that close enough? Get outa' line and get inside right away, you're boarding in about 10 minutes ... you're on your way home!!" ... and I did ... .and I was! I was in love with that cute li'l ticket clerk from that point on to Washington and a fast connection to Philadelphia ... where even more surprises awaited!
I had made it home to Philadelphia so quickly that I hadn't had time to even get to a phone to let my family know I was in the States, and of course airplanes didn't have phones then, and no one was at home to call for a ride so I took a cab from the airport to the suburb of Aldan, and on my arrival, my sister, now just home from work, saw the cab and raced out and into my arms ... and the cabbie just watched ... and when I finally went to pay him, about a 10 to 15 dollar fare then, he said "Merry Christmas Pal" ... and he pulled away, absolutely refusing any fare or tip! I never got his name but if he is still out there somewhere I want him to know ... "YO!" ... that neither he nor the American Airline clerk, nor THESE "Ghosts from Christmas Past", have EVER been forgotten!
Our winged chariot C-124 Globemaster at
Naha Air Base Okinawa - Now Homo Go!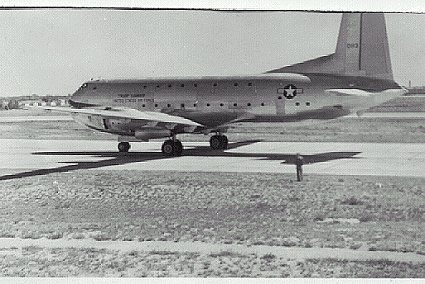 Shortly after my arrival home, in that first evening when I expected that the girl I had been dating, writing to daily, remaining faithful to in our young love ... "going steady" ... might be thrilled to know I was home, I called and received a relatively un-warm welcome, and I knew that she, just home from college, obviously had "something else to do that night". And of course I think I understood since I really had arrived home sooner than any of us expected ... a LOT sooner for some!
The following night, Christmas Eve, on meeting her at her home, after some modest greetings and small talk with and by her family, her mother could not pass up the opportunity to relate that her daughter had obviously told her about my departure just six months before, and that she apparently had gotten a great kick out of the sadness reflected in a family farewell, saying goodbye to a son that they knew was headed to a combat tour and might never be seen again ... and with the typical emotions of the Irish, and a fragile family, many tears, and hugs, and kisses ... .and then a rush to catch a train as it started its steam-streaming journey out of the lighted Pennsylvania Station platform into the darkness of the future. And she thought that that must have been so funny that she laughed just as she might have over the off- color jokes that she often heard and brought home from her nurses station at Delaware County Hospital. And then my "steady", their only child and "my girl back home", wondered why I had had to wear my uniform that night, with 2 rows of colorful ribbons and the silver Gunners Wings, all of which I was so proud of and wanted her to see, but which apparently embarrassed her. I guess in my naivete, I really had known that it was over well before this, but now the reality went beyond what a "Dear John Letter could have done, and I may have experienced my first "road rage as I left her house - and her - to whomever would have her and her insensitive family.And I drove back again into the darkness, alone, having just felt even more doubt and anger than had occurred in my recent 25 combat missions or any other previous traumatic event in my life. "Spitting on the uniform" may have started long before Vietnam! "Welcome home G.I.!"
I have wondered many times since that dreadful night, if this family ever in later years experienced any such overwhelmingly tearful disappointment ... beyond the possibility of her simply not having been THE star of a dance recital, or not being chosen Miss Penn State ... and thank goodness that their daughter apparently eventually gave them only three granddaughters that would never have had to go into the military, or to war ... or be laughed at for THEIR family! And I wondered if she had "lost" anyone else's high school class ring so casually ... and if she had liked one of my Christmas presents, one of those cheap hokey colorful silk souvenir Okinawan Pajama sets that all servicemen brought home ... kinda' "Teahouse of The August Moon" stuff! HA! "Sayonarah "! *
I was back home again, alone, in the dark, in the car ... and that was just another Christmas Eve ... and I could not go back to the house ... I drove around looking for people like the American Airlines clerk and the cab driver, all now at home with their families and Christmas trees.
I went home very late to a darkened house, went to bed ... and wondered what my crewmates were doing this night after their many happy returns to far distant homes, just a week away from combat and North Korea, with no freezing cold, no searchlights, no flak, no fear, no C-Rations ... no silk pajamas ... and also perhaps no one!
"Merry Christmas to all and to all a good night"!