Guam - Tourist Class




Our first trip to Guam from "The Rock" was to attend a special Gunnery School at Pati Point on the Northeast tip of the Island. As the daylight formation flight training missions increased in frequency and duration, in between our regularly scheduled combat missions, it became obvious that something big was up and this clinched it for us - DAYLIGHT MISSIONS AGAIN ... suspended on October 23rd, 1951. Because of significant losses of aircraft and aircrew from intense Mig -15 attacks by mass formations of over 50 of the Russian piloted swept-wing jets out of Antung, Manchuria. We could only speculate that this training was to arm us with something new against the Mig in daylight ... there WAS nothing new!

We spent a week firing from ground based turrets and sighting positions at colored sleeve - targets towed by B-25's flying low and as fast as they could almost at our ground level height but just off the brink of the jungle covered cliffs of Pati Point, and about 500 feet above the breaking surf at the base of the cliffs. When not shooting at tow targets, without really knowing if we were even hitting them, we shot skeet, clay pigeons, dozens of rounds of skeet at 25 shots/ per round ... until some shoulders were black and blue ... sore ... but it STILL beat being back on "the Rock" flying combat missions!

While on Guam for that week, the entertainment consisted of nights at the N.C.O. Club ... drinking, shooting darts, drinking, playing pool, and then some drinking! In earlier evening, just after full darkness, There were movies ... walk-in movies outdoors ... on a modest slope ... in which the theater seats were boards, about 2" by 4" or 2" by 6", mounted on posts, 4" by 4" approximately 24" high. The only difference between this and the Drive-In back home was that there was nothing to drive in, no popcorn or soft drinks, no speakers, no dates ... no necking ... no NOTHIN'! Other than that, it was just like home!!!!

In our first night at the movie we noticed that all of the resident airman and movie goers had a little bundle under their arm, which within very few minutes proved to be "ponchos", rain covers, casually but quickly unrolled and re-stowed with each frequently and rapidly passing rain squall! Thank goodness it was tropically warm!

After a movie we "dried out" at the NCO Club, invariably mixing, drinking, and singing with some of the resident Andersen Air Force Base personnel with someone playing a piano that no one heard until the booze had tuned their hearing and lubricated vocal cords ... for the usual bawdy and blasphemous songs, sometimes interrupted with a serious sentimental song that made everyone look somewhere else! Our most memorable night occurred when the club doors literally were flung almost off their hinges by a group of Aussies, and perhaps some New Zealanders, all in what appeared to be combat field uniform, with the characteristic Aussie hat with turned -down side brim. They were all headed home after their mandatory MINIMUM 18 month combat tours on the front lines ... and this was their FIRST recreational stop on their flight home ... WHEW! We sang every song that anyone could remember ... and several that NO one could remember! Their classic was "Waltzing Matilda", and the universal favorite was: "Bless 'em all ... Bless 'em all,

The long, the short and the tall,
Bless all the sergeants and WO Ones,
Bless all the cor'prals and their blinking sons
For we're saying goodbye to them all
As back to the barracks we crawl
There'll be no promotion this side of the ocean
So cheer up my lads, Bless 'em all!"


... or somethin' like that! "FUJIGMO!" A good time was had by all ... and an awful lot of clay pigeons, tow targets ... and PEOPLE ... WERE missed the next day ... as "back to the barracks we crawled"! While on Guam we experienced but never really felt an earthquake ... but then we weren't feeling much of anything else either!

As I reflect on those occasions on Guam, the few nights we spent carousing with both the "Diggers" of Australia and New Zealand, headed home from their 18 month front line combat tours, and the "rock happy" "permanent party" cadre of Andersen AFB, I am reminded of the many marvelous tributes devoted to so many elements and participants of the Korean War represented in Bert Kortegaard's incredibly comprehensive web site ... referencing and honoring HIS Korean War compatriots, friends and strangers alike, including me, without our ever having yet met ... honoring me by even the remotest thread of association with his late friend, "Digger" Ron Cashman!




Back on Kadena on August 25th, we "stood down" a few days and then on the 29th a 5 hour formation flight of 16 Ships at 25,000 feet, again convincing us that something "big" was up! On the very next day, the 30th, we flew a max effort against Pyongyang, the heavily defended North Korean Capitol, in the largest raid to date in the Korean War, called "The All United Nations Air Effort" with aircraft of all allies and all U.S. military branch air forces , hundreds of aircraft flying 1,403 sorties through the day and night, an effort greater than any single raid in WW II. We flew nine more times in the month of September, with 4 of those missions against the most difficult targets of our tour, including Suiho, Namsan-Ni, and our only daylight raid on September 19th. The typhoon season was on its way and operations would shortly be interrupted and limited ... while help was needed up north!

On November 3rd with Typhoon Agnes on her way, we were issued canned food, C-Rations, and candles in anticipation of being restricted to our battened down steel shuttered barracks rooms ... except for aircrew! Late in the evening all aircrew were alerted to briefing, hurried preflight of aircraft in the downpour , and we began "weathervaning" of ships on the hardstands ... manning the aircraft with engines running, turning in place into the wind as the swirling gale changed directions, trying to prevent broadside forces from damaging broad control surfaces. This effort was to preclude a mass evacuation of combat crews and aircraft so necessary to counter the massive fall offensive by the Chinese. After many hours getting beat up and exhausted in the aircraft, a decision was made to "fly 'em out" ... to Guam, and we took off at 0512 AM on November 4th, diverting around the worst of the typhoon and over northern Luzon in the Philippines, and on to Guam, arriving 9 hours later at 1500 hours(3:00 PM) . Just north of Luzon we passed the newly born volcano, Didicas, just about two months old and spewing rocks, lava and billowing smoke. Captain Cheney gave us a brief relatively low level site -seeing tour as we passed ... some modest geologic history in the making! Having been up for two days straight, weathervaning the aircraft and flying, the next day, the 5th , was a wipeout and we were back on the flight line for preflight and take off by 2130 (9:30 PM) that night, heading straight back to Kadena and arriving at Okinawa at 0500 hours ( 5:00AM) on the 6th.

Two days later, on the 8th, we flew another max effort to Pyongyang and the big Chinese offensive push was on! Just two more combat missions and we were on our way back through the edge of Typhoon Della, another long over water flight in a two engined C-46 to the Philippines for our postponed R&R! We were becoming Pacific "commuters"!

After many years of separation of our crew, I finally found our pilot, Marty Martineau, retired from an Air Force career that included tours in the B-29, U-2's, and RC-135's over North Korea, Vietnam, and Lord and perhaps only the C.I.A. knows where all! Marty and his wife, Carol, have remained on Guam with 5 of their six grown children, the 6th an Air Force Nurse in Phoenix. Marty and Carol roam the far East and Southeast Asia on buying trips for their gold jewelry business and they apparently also own a Mexican Restaurant in Tamuning ... "Marty's Restaurant & Lounge" (*) ... .why not???? Joe B. Heaton would have loved it ... "Hey Cap'n Cheney, let Marty Land it!"
Check out "Marty's", operated by Marty's children, in the following link. I am now hoping to visit Guam and "Marty's" ... if not Marty himself! I think Marty may have lost the "North Star"!
https://www.guam-online.com/dining/dining.htm
Typhoon Karen Evacuation to Guam




Stark Quarters & Cots - No Air Conditioning then!




Angelo Menna at Andersen AFB, Guam, Typhoon Evacuation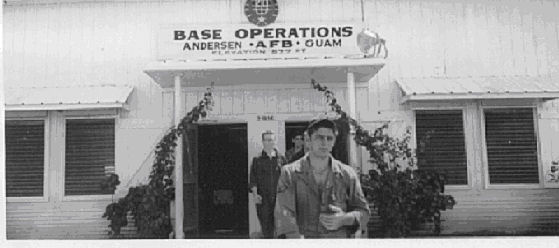 This is the forming Volcano Didicas we flew around at low level during our Typhoon Karen evacuation to Guam, having had to divert westward over northern Philippines to avoid main part of the typhoon between Okinawa and The Mariana Islands, Saipan, Tinian, and Guam. The growing volcano was approximately 2 months old when we saw it, still spewing rocks, lava, etc., so we did not fly too close to the cone ... looked exactly like this news picture when we saw it. We did not have cameras with us since we had had to evacuate Kadena AFB- Okinawa on very short notice, without any extra gear, clothing, or shaving kits etc., after having been sitting in aircraft almost 24 hours "weathervaning" our ship to avoid broadside wind damage. We also made the trip without food since we had consumed the C-Rations given us while we sat in ship the previous 24 hours ... "YOUNG AND DUMB"!
U.S. News and World Report Photo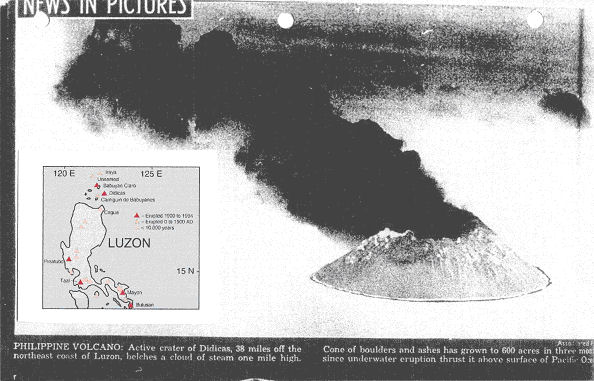 Didicas Volcano Forming 1952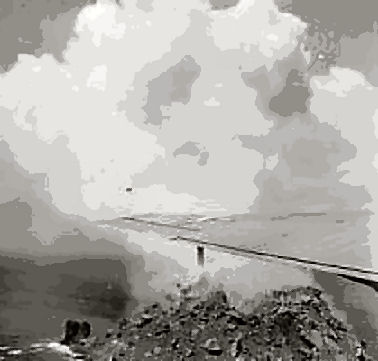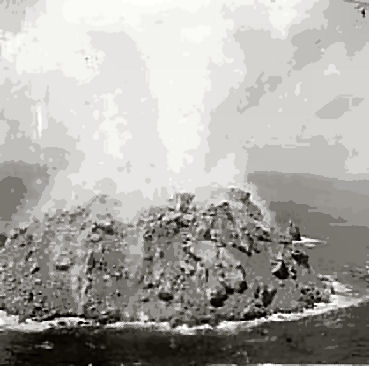 Photos by Dewey Thomas