Suiho - Debriefing
September 12 th had been Rex Parsons' 21st Birthday ... daybreak a gift! It was at least two days before information filtered down to us just where all of the many ships were that were not on their hard stands at light of day after the mission, from both the 307th and 19th Bomb Group. We of course by now knew about Major Sander's crew having augured in and we had only heard that Master Sergeant Gerrato, the Flight Engineer had somehow survived. Al Gerato had been my roommate for about 2 weeks when their crew first arrived on Kadena in the old Tengan Barracks, and now across the hall in new barrack.
As tired as we all were after the mission, physically and mentally exhausted, nearly everyone in the squadron and group wanted to be on the flight line early the next day, to look at aircraft damage and to await crews returning from emergency landings at bases in South Korea or Japan for repair or refueling ... the REAL debriefing! Remember, there was no air-to-air refueling of bombers then, although it was in experimental stages of development as I would later find out as an Air Refueling Operator in KB-29s in the 43rd Air Refueling Squadron of the 43rd Bomb Wing of SAC.
Throughout the day numerous aircraft started drifting back into Kadena after layovers at Itazuke Air base at Fukuoka, Kyushu, Japan, filling empty slots on hard stands along miles of taxiway ramps of the 19th and 307th ... except where # 802 BAIT ME had been slotted, very close and adjacent to the 93rd Bomb Squadron Operations area, a grim reminder to all that she would not be there again ... with her white wall tires. I always wondered if the ever present Crew Chief's pet German Shepherd understood the sadness of his master?
And up the hill, terraced by ramps and hard stands, at the 307th Bomb Wing area, there was another open hard stand that would not be filled for a while ... the ship that blew up in front of us. A week after Suiho, I found out that a friend of mine from gunnery school, Fred Parker, was on that ship and I had seen him no more than a week before in the PX and he was very excited about completing his combat tour in a few weeks and returning home to his wife and a brand new baby boy born just two weeks earlier.
At the Suiho debriefing our Crew reported in good faith that we did not believe that anyone had or could have survived the explosion of the B-29 in front of us, but it was dark - midnight - and impossible to have seen chutes or anything other than the falling burning wreckage. For one year between Sept. 12,1952, until August 1953, I thought about Fred and scanned all of the newspaper POW repatriation lists after the July 27th 1953 truce ending the war ... and there was Fred Parker ! Thank GOD ... we had perhaps affected his family's consideration in our certainty of there having been no survivors in our report ... and we were WRONG!
FRED PARKER CREW LIST

Lowe, James A. Jr., Captain MIA
Bloesch, Fred E., 1st Lt. MIA
Brown, Nelson M., MSgt. MIA
Hobday, Jimmie R., Airman 1st Class MIA
Kelly, Henry B., 1st Lt. MIA
Le Baron, James R., Airman 1st Class MIA
Peters, Spiro J., 1st Lt. MIA
Phillis, William K., 1st Lt. MIA
Royer, Ted G., 1st Lt. MIA
Trosclair, James O., Airman 1st Class MIA
Parker, Fred (NMI), Airman 1st Class P.O.W. Returned to U.S.A.F.
Military Control in Operation Big Switch in September 1953.
All others lost in explosion over Suiho Dam or in captivity.

On the day after Thanksgiving in 1998, 46 years later, a Department of Defense Representative, Phil O'Brien, called me in relation to information regarding crewmembers that might have been on a December 30th ,1952 mission on which a 28th Bomb Squadron ship of the 19th had been shot down. We discussed the fact that I had left Kadena on December 21st 1952, a week before the mission in question but that I did know crewmembers who had been on the same mission and who had observed the Mig -15 attack and loss of the B-29 in question. I also commented that I had learned from the experience at Suiho, NEVER to say something was impossible, and I related the story of Fred Parker. As we talked he pulled up on the computer ... "Oh ya, here it is ... Fred Parker, 307th Bomb Group, shot down 9/12/52 over Suiho, POW in Camp # 2, repatriated and returned to Arkansas August 1953."
I immediately got on my newly acquired computer and entered a search and came up with 5 Fred Parker's in Arkansas with addresses and phone numbers ... first not him, second no answer, 3rd out of service, and last two not him. The next day I tried again and his wife confirmed I had THE Fred Parker of the 307th and he returned my call that night and his voice and accent were exactly as I remembered from 1952 Gunnery School at Lowry and on Okinawa.
When I told him that we had been immediately behind them at Suiho I tried to be as sensitive as possible but also had to let him know how thrilled I was after all these years. He told me they had taken a direct hit from a heavy AAA Flak Round and were on fire and a falling conflagration, tumbling like a leaf fluttering to ground with absolutely no control when the aircraft blew up with its full 20,000 pound bomb load and substantial remaining fuel. Fred regained consciousness after having fallen from 25,000 feet entangled in fuselage wreckage, wrestled his way free, pushed away from the shredded debris, counted briefly as trained, and popped his chute ... and IMMEDIATELY struck and came down through a very tall Pine tree, stopping no more than a foot from the ground! He got out of his chute harness and made a gallant effort to escape and evade North Korean Army and civilian Militia pursuers, successful for an extraordinary twelve days, a Caucasian in a hostile oriental environment ... until spotted by militia dogs, captured, and interned for the following year in POW Camp # 2 with mostly U.N. Allied Airmen.
Fred states very modestly that through the explosion, the fall from 25,000 feet to maybe 1,000 feet, regaining consciousness, disentanglement, popping his chute at 500 feet, falling through the tree ... .he had one SMALL scratch on his ear ... not knowing whether it resulted from any one element of his extraordinary survival, the only survivor of the twelve crewmembers aboard. I clearly remember hearing our Pilot say "Christ, look at that!" and I now think that HE had ... and that we had apparently and truly witnessed one of God's miracles! And today, after retirement from a long career with Xerox, Fred says he's "just a chicken farmer"! Again, just as modest as ever!
In late December or early January of 1953, just after our December 23rd , 1952 return from our combat tour, and while home on leave, I traveled to New York City with Mom and her sister, my Aunt Catherine, for a one day site seeing trip, and while there we visited St. Patrick's Cathedral and for the first and only time - until recently - I lit a candle and gave a very short and awkward prayer for the possible survival of Fred Parker in the September 12th Suiho explosion and loss of his aircraft and crew. In September 1953, 8 or 9 months later while reviewing newspaper lists of POW's being repatriated in Operation Big Switch, there was Fred Parker's name ... miraculously having survived and an answer to one of the strongest albeit awkward prayer's or appeals that I have ever made, but of course never told to Fred, but known and seen by Mom and my Aunt Catherine!
In late 1999 I received a recently declassified report regarding the loss of # 802 BAIT ME, and Major Sanders Crew when they iced up, lost control and augured in on their way to Suiho. The Flight Engineer, Al Gerrato, came back to the 93rd Squadron and was required to complete his tour even though he begged to be allowed to go home for a new crew. He was very similar to "Yossarian", the madcap B-25 Bombardier in the book "CATCH 22" by Josef Heller * (started in 1953 and finished in 1961 while he was a Teacher at Penn State). Gerrato even LOOKED like Alan Arkin who played "Yossarian" in the movie! "Catch 22"has become a universal catchphrase for contradictorily preposterous rules and regulations ... ..and was evolved from the hypothesis that to fly combat missions you had to be CRAZY ... and to NOT want to fly combat missions was very rational and of course reflected that you COULDN'T be crazy ... so if you weren't crazy you had to fly combat! "CATCH 22!"
From late September until we left Kadena on 12/21/52, "Yossarian" was with us in the wooden bench -seated truck to the flight line and briefing room even though he did not fly often, filling in as a "Spare Flight Engineer", joining us on the crew truck, often singing "Off we go, into the Wild Blue Yonder ... ..". After reading the accident report 47 years after the incident ... I understand!
( Joseph Heller was an English Professor at Penn State and started his book CATCH 22 there in 1953 and finished it in 1961, and upon learning this I have always wondered if one of the main book characters, " Major Major Major", was perhaps named after or inspired by an English Composition II /Short Story writing Course instructor I had at Penn State in Spring term of 1955, PROFESSOR MAJOR ... and for which I got an "A" ... a long way from my "Bar 2" ("F") days in my first semester in 1950! I can perhaps vicariously think that Professor Major had even shown Heller some of my short stories!)
According to Al Gerrato in his actual report, their climb out was uneventful and at 2300 hours they had reached bombing altitude of 22,000 feet at approx. 36 Degrees - 35 Minutes North, 129 Degrees -15 minutes East, about 40 miles south of the 38th Parallel and on the extreme East Coast of Korea, and were cruising at 199 mph when the aircraft started to vibrate indicating some propeller icing. The A.C. increased RPM again after airspeed dropped off to 192 mph, at which time the aircraft fell off to the right with a terrific shudder, recovered, and then fell off to the left with a greater shudder, and went into a spin ... falling, screaming and shuddering and the centrifugal force was overwhelming. The Aircraft Commander yelled "BAIL OUT ... I've lost control of the ship!" The Flight Engineer and Bombardier fought the centrifugal force and attempted to open the nose wheel hatch and were successful only after pressurization was apparently equalized at 8,500 feet, allowing them to open the inward opening hatch and hit the emergency nose gear switch, and bail out feet first while the gear was still lowering. Popping his chute almost immediately, Gerrato had a glimpse of the aircraft spinning to the left at about a 45 degree angle. Approximately 3 seconds later the plane hit the ground and exploded. After landing very nearby and running through the burning wreckage debris field, and realizing that there were no other survivors, and not knowing if he was in North or South Korea, he then climbed a mountain and hid for 13 hours on Sept. 13th, from 2300 hours until 1200 hours the next day, when he was sure he was in South Korea. He reported that he believed that the Bombardier and the new Flight Engineer at the Engineers Panel, on his very first mission check ride, also bailed out successfully but at such a low altitude that they may have been killed by the blast effect when the aircraft and bombs exploded. This had been Al's 5th mission ... "in THIS theatre", indicating he had previously flown a combat tour in WW II. Al returned to Kadena AFB on September 15th, reassigned to the Squadron and combat!
SANDERS CREW LIST

Major Earl Sanders, Aircraft Commander
2 nd Lt. Merle T. Ayers, Pilot
Capt. John Roberts, Navigator
1stLt. Raymond Houston, Bombardier
1st Lt. John Dreeese, Radar Observer
M/Sgt Al Geratto, Flight Engineer (Survived)
A/2c George D. Jones, Jr., Radio Operator
A/2c James McCormick, CFC Gunner
A/1c Richard Michel, Right Gunner
A/2c Jimmie Kahanek, Left Gunner
A/2c Amos Temples, Tail Gunner
T/Sgt. Ralph Heath, Extra Flight Engineer


The OFFICIAL Aircraft Accident report reflects the cause of accident was "loss of control" due to icing and according to an official engineering or Operational directive, "Propeller de-icing fluid will be drained for combat missions". "Cost of Damage to the Aircraft listed as $627,243.00" and to "other Government Property $ 7,800"! GOVERNMENT PROPERTY? CATCH 23!
" # 802 Bait Me?"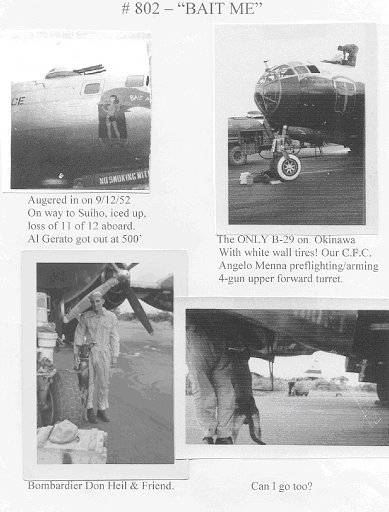 Note in picture below, the two "YAK-9 KILL" symbols just below the open escape hatch window second to left from the 19th Shield Emblem.
The bomb symbols reflect 60 missions to that point in the war and she flew many more before icing up and augering in on September 12th, 1952 on the way to Suiho,with the loss of 11 of the 12 aboard.

- Billy Yuhas (Ground Crew) Photos -
Just one week after the Suiho Mission, General Curtis Lemay was in our Briefing Room on September 19th for the Daylight Raid Briefing. Lemay was the WW II air war genius that brought the 29s down from 25-30,000 feet over Tokyo to 7,000 feet and less to improve bombing accuracy ... and many years later as a Vice Presidential candidate during the Vietnam War, stated that "We should bomb them into the stone age"! The reputation of "Old Iron Ass " certainly went before him!
The following, an excerpt from the book "MISSION WITH LEMAY" related to the 8th Air Force losses out of England to Europe in WW II, but of course were the same type of odds that were DISCUSSED if not realized in B-29 operations in Korea. On a few missions, such as Namsi Airfield, the Kwaksan Bridges, and the Suiho Dam, there were 3 - B-29s each lost out of 9 (33%), 4 (75%), and 32 (9 %) respectively, numbers not as great as those over Europe, but the percentages went from 10 % to 75 % losses . It becomes very easy to start a mental numbers game when you may be one of the numbers going against the odds!
After the September and October 1952 losses of several ships and crews, barracks "Bull Session" speculation was ... more "gallows" than good humor! Remember, the loss of only one ship out of 50, or 2 out of a hundred, (whether lost in combat or operationally (weather, mechanical, fuel shortage, etc.), is still 2 % losses or a Fifty - Fifty chance! Most of us had our own letters to be mailed "in the event of ... "
"MISSION WITH LEMAY"

"All the combat crews had been sitting around, figuring out what their chances were. And the chances weren't very good. They got their statistics together, crudely but with terrible effect, and discover- ed that we were averaging an eight-per-cent loss on each mission. The tour of duty (then) was twenty-five. Taking it from there, a four- per-cent loss would still leave any theoretical crew completely shot down---or shot up---with the completion of their specified twenty-five missions. If there were a two-per-cent loss on every mission, a crew at the start would have a fifty-fifty chance of finishing up their tour and going home. Beyond that, the ratio declined speedily and abrupt- ly. Thus a twelve-mission tour, if we'd ever had anything like that, would have burned up just about a hundred per cent of our effectives in men and planes. In the end everybody was going to be shot down -

General Curtis Lemay, Chief of Staff, Strategic Air Command, 1952 -