" ... he's my Brother!"
A few years ago I saw a posting on the Internet under "The Korean War Project", a request for anyone having information regarding the mission on which Master Sergeant Patrick Differ had been lost over North Korea on December 30th, 1952. Although I had left the 19th Bomb Group and Okinawa on December 21st, just a week before, I knew of several B-29 Crewmembers that had still been there and in fact been on the very same mission that Lt. Foster's crew had been lost, including the Flight Engineer, Patrick Differ. I began a correspondence with Bill Differ, Patrick's Son, who was only about two years old when his Dad was lost.
I put Bill in touch with several ex- crewmembers from Captain. Charlton's crew, a crew that had flown the same mission but from a different Squadron, the 93rd, while Patrick Differ was in the 28th Bomb Squadron of the 19th Bomb group. One of these individuals was John Greening, the Left Gunner on Captain Charlton's crew, and who was literally on his deathbed with terminal cancer, and, as it turned out, had no more than two weeks to live ... but his most selfless thoughts, even then, were to help the son of one of his B-29 brothers find some closure regarding his father! John had observed the shootdown and explosion of a B-29 in front of them that had also been jumped by Migs after also being caught in searchlights on that night.
I have for many years known Captain Jim Neal, a Dallas area neighbor, and the Bombardier of Captain Charlton's crew, who were also jumped by Migs and badly damaged that night on the same mission.. I have attempted to include some thoughts here regarding these "Brothers", most of whom I did not know at the time, but whom I am certain had also flown other missions along with us in the weeks and months before our completion of our six month combat tour. My later gained knowledge of the increased Mig activity makes me realize perhaps how lucky we were to have just missed the 1953 New Year over North Korea ... HOMO GO!
I have attached the following narrative and several photographs that have been forwarded to me by various crewmembers flying that fateful mission of December 30th 1952 over the Choak-Tong ore processing center in North Korea, which began a long and so far endless search for closure for one then very small boy ... and a continuing search by one somewhat older "boy" regarding a quest to know what makes these men so great a part of my life ... without ever having known them!
The following is a composite narrative from reports and letters of several individuals that were on the mission, OR from the December 1952, 28th Bomb Squadron, 19th Bomb Group History, and from subsequent Department of Defense information determined from several sources. I beg the indulgence of those who were there, and have more definitive knowledge, but who also would perhaps not write about this very difficult and sensitive experience. I do so at the probability and vulnerability of any inaccuracy but have a very great desire to honor these men and their families!
"When you go home tell them of us and say,
For their tomorrow we gave our today"

-Kohima Memorial Epithet for British/Indian
Troops lost in WW II, Assam, India
CHOAK-TONG MISSION
Lt. Foster's / Patrick Differ's Crew were a standby crew for the mission and were ordered into the air upon the takeoff abort of one of the other Squadron Aircraft. The target was near the Yalu River and the area known as Mig Alley, but recent greatly increased Mig Activity at night through the Fall of 1952 had drawn the support of Marine Night fighter cover by Marine Squadron VMF(N) -513, flying the tandem seat F3D-2-Skynight with excellent results in keeping the Migs at bay. On this night however, due to some foulup, the Marine F3D's didn't show and the enemy was out in force and virtually unopposed by other than the B-29 gunners trying to defend their virtually desperately obsolete slow lumbering aircraft against one of the newest state of the art Jet Fighters in the world ... the MIG-15!
Foster's ship was one of the last over the target which afforded enemy ground radar, the latest Russian S-Band Radar, a pretty good fix on their track and could not be jammed, resulting in their being locked or "coned" in the enemy ground searchlights, illuminating them as targets for the orbiting Migs ... now known and documented by the RUSSIANS, to have been FLOWN by Russian mercenaries ... The HONCHOS! In the middle of the bomb run, with bomb bay doors open, the B-29's could not take any evasive action and the Migs made seven passes and hit them three times before they could drop their bomb load, knocking out one engine and leaving the Left Gunner Rodney mortally wounded. The Tail Gunner, Donald Swalls, is credited with shooting down one of the 8 attacking Migs, the explosion of which may be what John Greening on Captain Charlton's crew may have seen rather than the explosion of Lt. Foster's ship. With the bomb bay doors now inoperable, ailerons shot out, and several on- board fires, they knew they were going down. Lt. Foster made a valiant effort to get his plane south across the front lines at the 38th Parallel since he knew that his Left Gunner -Darryl Rodney - would not be able to bail out, and the shortest route south took them over the heavily defended Capitol of North Korea, Pyongyang, where Antiaircraft fire (from now proven Soviet Antiaircraft batteries), FLAK, hit their center wing tank with another major fire started and bailout ordered. Just minutes from possible safety, the right wing, on fire, apparently came off, and most of the crew remaining in the front compartment never got out. Lt. Foster and Patrick Differ had stayed with the aircraft in a desperate effort to get their wounded crewmate and aircraft to safety. Of the six who bailed out (*) and were captured, one, Right Gunner Damian O'toole, was executed on the spot, in front of a crewmate, supposedly for refusing to give his local militia captors information on the rest of the crew, and on the whereabouts of his so called "personal Walkie -Talkie radio", equipment which none of us ever had or know anything about! Lt. Foster and Patrick Differ had apparently sacrificed their lives to save their aircraft and a fellow crewmember, and Damian O'Toole gave his life trying to protect his other downed crewmates ... for which their families, and we, should all be very proud!
- A hero is no braver than an ordinary man, but he is braver five minutes longer. -
- Ralph Waldo Emerson -
Foster's Crew

1st Lt. Robert A. Foster Aircraft Commander KIA
*1st Lt. Otho A. Orr Pilot POW
2nd Lt. Harry M Rehm Bombardier KIA
*1st Lt. Paul A. Wilcox Radar Observer POW
2nd Lt. David T. Heer Navigator KIA
M/ Sgt. Patrick Differ Flight Engineer KIA
A/2c Rudolph Nikles C.F.C.Gunner KIA
*A/2c Damian F. O'toole Right Gunner KIA
A/2c Darryl E. Rodney Left Gunner KIA
* A/2c Donald G. Swalls Tail Gunner POW
* A/2c Leland H. Van Slyke Radio Operator POW
* 1st Lt. Harold Coplan Bombardier -Spare POW
All of the above (*) that survived the bailout and capture, became P.O.W.'s and were subjected to extremely harsh treatment until repatriated in Operation Big Switch, the exchange of prisoners after the July 27th , 1953 Truce at Panmunjom, Korea.
The following pictures were provided to me by crewmates or family members of the Foster and Charlton Crews. I've told Bill Differ, son of Patrick Differ, that somewhere, every day, someone ... besides him or members of his family ... thinks of his Dad and his crewmembers!
"A moth eaten rag on a worm eaten pole,
it does not look likely to stir a man's soul.
'Tis the deeds that were done 'neath the moth eaten rag
when the pole was a staff and the rag was a flag.

- Sir Edward Hamley-

Damien O'Toole, Daryl Rodney, Patrick Differ of Foster Crew, others from their sister crew.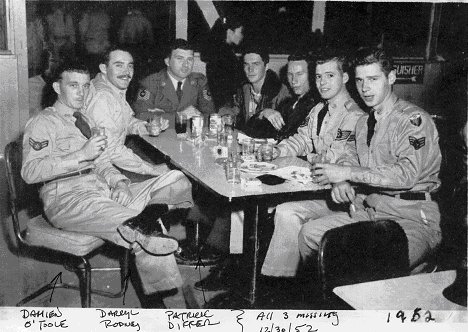 Lt. Foster and Patrick Differ stayed with their catastrophically damaged Aircraft in an attempt to bring back their mortally wounded crewmate and friend, Left Gunner Darryl Rodney. This picture and caption reflect the heart-felt devotion to crewmates!
Photo Courtesy of Earl Gigstead, Gunner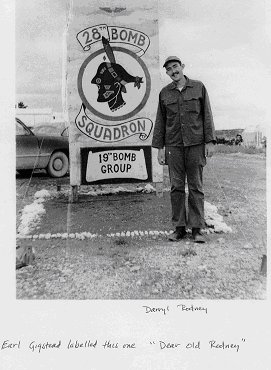 "Greater Love Hath No Man Than This,
That He Lay Down His Life For His Friends."
-Jesus Christ, John15:13

- Dedicated to Lt. Foster & Master Sergeant Pat Differ -
The following pictures were provided to me by crewmates or family members of the Foster and Charlton Crews. Although I knew only Jim Neal of the Charlton Crew, the others are now woven into the fabric of my life, not "Unknown" nor "Forgotten" ... unrelated but BROTHERS! GOD BLESS THEM!
Flight Engineer/Mstr. Sgt. Right Gunner/A2C
Patrick Differ Damien O'Toole

It is very difficult, if not impossible, for any of us that haven't experienced such a loss at such a very young age, to relate to Bill's quest for knowledge of his father and his father's friends. I have told Bill that no matter what he learns or whom he meets that knew and cared for his Dad, there will still be some - perhaps many - out there, that Bill will never get to meet or know, that also remember and think of Patrick Differ on each and every day of their lives too. Somewhere now, someone else other than you and me, and Bill, is holding very dear to them the memory of Patrick Differ ... and many other brothers!
Bill has understood and accepted his father's loss and now seeks only to know more about this great guy, his Dad, who had to leave him when he was only two years old ... to become like a father to the enlisted men on his crew! Thank God for men like Patrick Differ ... we all knew one!
Your own proud lands heroic soil
Must be your fitter grave;
She claims from war his richest spoil
The ashes of the brave.

- National Military Cemetery
Vicksburg, Mississippi -
Pictures of Charlton Aircraft of 93rd Bomb Squadron, 19th Bomb Group with battle damage, # 596 over Choak-Tong 12/30/52 and # 077, "TARGET TONITE" in March 1952. Taken by Air Force Photographer

Pictures courtesy of John Greening, Left Gunner Charlton Crew, Civilian Pilot & Banjo Player! (Pictured in center of kneeling row below.) Photos taken by Charles Robinson, Flight Engineer, Charlton Crew

---
The following article makes NO reference to the fact that one of our ships was down, that of Lt Foster's crew with Aircraft Commander Lt . Foster, Flight Engineer Pat Differ, and their mortally wounded Gunner Darryl Rodney, and with several other crewmembers also bailed out over North Korea and perhaps still escaping and evading enemy troops. There is always more to the story ... .
Sure, "just another nigh ... and New Year's Eve!"
---
Strike Photos of Choak-Tong 12/31/52
Before Impact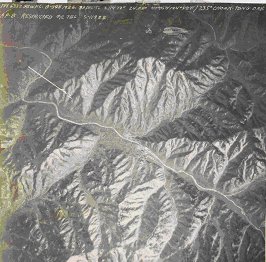 After Impact