---
Death of a South Korean Minesweeper
Trying to clear the harbor of mines to allow the Marines to land, braving shore batteries while doing its perilous task, this gallant little ship strikes one of over 3,000 Russian mines in Wonsan. In clearing mines, the hunter is also the hunted.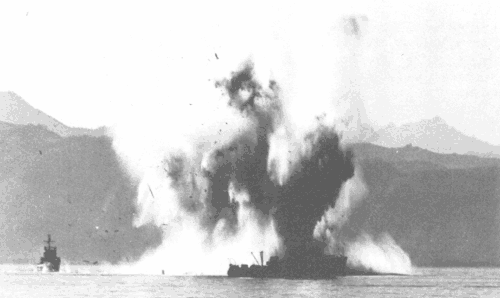 Wonsan Harbor, 9/50, South Korean Minesweeper Hits Mine

Russian Experts Had Supervised Planting 3,000 WWII magnetic and contact Mines, menacing all our Navy and Marine amphibious Operations

Minesweepers Merganser, Pirate and Pledge were also lost, and the Destroyer Brush severely damaged.

---
3,000 mines had been laid under supervision of Russian experts
It took from 10/10 to 10/25 to clear the mines for 1st Mar Div to land (10/26)
---
Shallow, muddy coastal waters of the Sea of Japan were ideal for mines

They were a constant concern for my shipi, Wantuck during our Commando raids


---
Causes of the Korean Tragedy ... Failure of Leadership, Intelligence and Preparation
---
The Foundations of Freedom are the Courage of Ordinary People and Quality of our Arms
---