---
Mosin Nagant 7.62mm Carbine Model 1944
7.62mm x 54R Carbine M1944, 8.9lb, 5 rounds integral box, 148 gr bullet, 48 gr, 2850 fps muzzle velocity, 2669 ft-lb muzzle energy, range 1000 meters
---
---


Mosin Nagant Models 1938 and 1944 7.62mm Carbines


---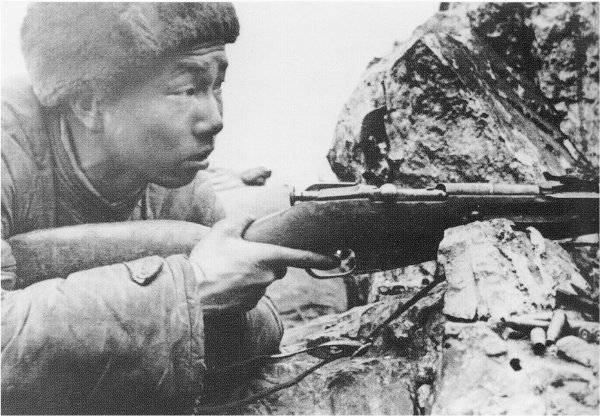 Top CCF Sniper Zhang Taofang, credited with 214 kills in Korean War's "Underground Wall Of China" using this Moisin-Nagant M-44 carbine.



This Romanian Moisin-Nagant M-44 carbine was made by Izhevsk in 1954
| | |
| --- | --- |
| Except for the permanently fixed cruciform bayonet, which folds down along the right side of the stock when not in use, and a slightly longer barrel, the M1944 is identical to the M1938 | |
---
7.62mm x 54R Carbine M1944


Weight w/bayonet and sling: 8.9lb
Length, bayonet folded: 40 in
Length, bayonet extended: 52.24in
Length, barrel: 20in
Magazine Capacity: 5 rounds, integral box
Ammo: Russian Light Ball M'08; bullet 148 gr, charge 48 gr
Muzzle Velocity: 2850 fps
Max Sighting Range: 1000 meters
Front Sight: Hooded Post
Rear Sight: Tangent
Barrel: 4 groove, right-hand twist

---
Japanese weapons were some of the wide variety used by the Chinese at the start of the Korean War. After the first year, China began re-arming with weapons purchased, or copied, from the Soviet Union. The M1944 carbine was widely used after that time, and was copied by the Chinese beginning in 1953.
---
Causes of the Korean Tragedy ... Failure of Leadership, Intelligence and Preparation
---
The Foundations of Freedom are the Courage of Ordinary People and Quality of our Arms
---