The 5th Infantry Regiment deployed to Korea on 25 July 1950 and was assigned to the 25th Infantry Division as a Regimental Combat Team (RCT), part of Task Force Kean. Task Force Kean comprised the 24th and 35th Infantry Regiments of the 25th ID, and the 5RCT and the 5th Marines (1st Provisional Marine Brigade). It included two medium tank battalions, the 89th (M4A3) and the fist Marine (M26 Pershings).
On August 7, 5RCT and the 5th Marines took over the front-line defensive positions west of Chindong-ni. During a week of savage fighting, Task Force Kean met and defeated the NK 6th Division, about 7,500 men supported by eighteen 76-mm guns, eighteen 122-mm guns, and about twenty-five tanks.
In late August, Task Force Kean was dissolved and 5RCT was reassigned to the 1st Cavalry Division, and in September to the 24th Infantry Division, replacing its 34th Infantry Regiment. It remained with the 24th until January, 1952, when it became a separate RCT again with IX-Corps.
The 5th Regimental Combat Team consisted of:

5th Infantry Regiment
555 Field Artillery Battalion (105mm) (Known as "The Triple-Nickel)
72nd Engineer Company

5 RCT suffered 4054 casualties during the Korean War.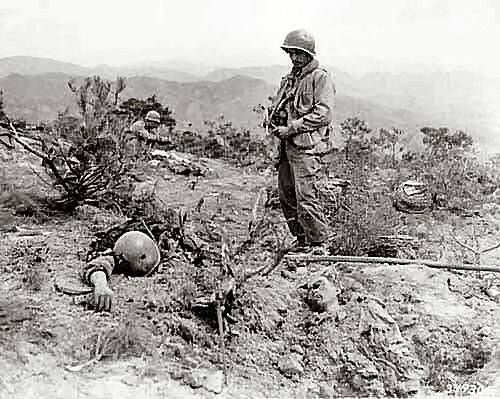 Sgt. Herbert Ohio of Hilo, T.H., views the remains of Communist defenders of Hill 268, taken by 5RCT in their advance on Waegwan.
September 21, 1950.


---
Causes of the Korean Tragedy ... Failure of Leadership, Intelligence and Preparation
---
The Foundations of Freedom are the Courage of Ordinary People and Quality of our Arms
---