USS Horace A Bass (APD 124)
Buckley Class Destroyer Escort: Laid down at Bethlehem Steel Co. Quincy MA as DE-691; Reclassified 17 July 1944 as APD 124; Launched 15 August 1944; Commissioned 8 December 1944; Designation changed to LPR 1 January 1969; Decommissioned 30 July 1969; Struck from the Navy List 15 September 1974. Dimensions: Displacement 1,400 t. 2,130 t. (fl); Length 306'; Beam 37'; Draft 12' 7"; Speed 23.6kts; Complement 186; Troops 162; Boats 4 LCVP landing craft; Armament 1 5"/38 Duel Purpose gun mount, 3 40mm twin gun mounts, 6 20mm single gun mounts, 2 Depth Charge racks.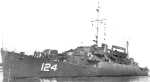 With the outbreak of the Korean War in June 1950, American naval power moved swiftly into the Far East to support and make possible land operations. Bass sailed 14 July to join the fleet units already deployed off Korea, arriving 2 August with troops of the 1st Marine Division. Underwater Demolition Teams and Marine Reconnaissance units were assigned to her, and the ship moved to the eastern coast of North Korea to carry out vital raids on Communist supply lines Between 11 and 17 August she made three successful raids, destroying three tunnels and two bridges. During this period Bass added bombardment during daylight hours.
As United Nations forces prepared to go on the offensive, the transport played an important part in the planning for the upcoming Inchon operation. Her raiding parties reconnoitered possible beaches 10-25 August, and departed Pusan 12 September for the main Inchon assault. Bass put her troops ashore in the first wave with Wantuck (APD 125) 15 September, as the brilliantly successful amphibioous operation suddenly reversed the course of the war.
As troops pushed northward, the fast transport resumed her raiding duties, making two attacks on tunnels and bridges near Songjin, 508 October 1950. For this operation Bass carried Royal Marine Commandos. Late in October, she took part in operations to clear the port of Wonsan for another landing, assisting minesweeping groups. The ship then spent 3 months on beach survey duty before sailing for the United States 28 January, 1951. For this highly successful tour of duty, Bass and her Special Operations Group received the Navy Unit Commendation.
The veteran ship steamed toward Korea again 24 September 1951, and after stopping at Yokosuka resumed bombardment and raiding duties along the coast of North Korea. In 14 separate raids with American, British,and ROK landing parties Bass did much to interrupt the all-important supply lines from the north, so vulnerable to mobile forces afloat. She completed her second tour of duty in Korea 3 July, when she sailed from Yokosuka. The ship arrived San Diego, 20 July 1952.
15 July 1953 Bass sailed for her third tour of Korean duty. Upon arrival Yokosuka 3 August, Bass became flagship of an Amphibious Control Squadron, and took part in various training landings in Japan. She also conducted three survey operations and two demolition assignments on the Korean coast, where the armistice was now in effect. Bass visited other Pacific ports during this period before departing Yokosuka 5 April 1954.
Horace A. Bass received two battle stars for WWII service, and six battle stars in addition to her Navy Unit Commendation for Korean War service.
---
---
Causes of the Korean Tragedy ... Failure of Leadership, Intelligence and Preparation
---
The Foundations of Freedom are the Courage of Ordinary People and Quality of our Arms
---