CHAPTER 7

DROPPING LEAFLETS


On Sunday May 24th we were sent up to "C" Company all day as a digging party to help improve the trenches etc.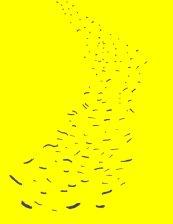 A British "Auster" liaison aircraft flew over to drop a batch of leaflets "surrender money", to the Chinese side. The wind blew a couple our way and one fell on the huge pile of empty shell casings out in front of the Centurion tank hidden at the top of the hill. I was 2O years old, young and silly, and decided to throw caution to the wind. I climbed up on the shell casings to collect the "leaflets", as I picked up one I heard a sound like high tuned snapping wire. I didn't know what the sound was, just then a second bullet hit the trench about 5 feet to my right as someone yelled "get down, a Chinaman has you in his sights".
Sure enough there was a Chinese sniper hidden in the valley in front of us, fully equipped with a machine gun with telescopic sight waiting for silly buggers like me to stick their heads up.
I smartly jumped down as a third bullet went somewhere over me.

I still have the "Surrender Leaflet" printed orange on both sides. In my diary of Sunday May 24, 1953, I wrote dryly "mortars and snipers active".