Description of MEDALS (left to right)
LT. COL. CHARLES HERCULES GREEN: 26/12/1919 - 1/11/1950


1st 3RAR Commanding Officer in the Korean War, Killed in Action 11/1/50

Numbers: AIF - NX 121 Regular Army - 2/37504

Distinguished Service Order - C.O. 2/11 Bn. AIF, Aitape-Wewak, P.N.G.,1945

1939-1945 Star : 6 months service in operational command

Africa Star : on posted strength, between 1940 and 1943, in area between Suez and Straits of Gibraltar

Pacific Star: operational service in territories that have been invaded by the enemy not including Burma

Defence Medal : 6 months service in specified areas

1939-1945 War Medal : 28 days full time service - operational or non operational

1939-1945 Australia Service Medal: 30 days full time service or 90 days part time service

1939-1945 Active Service Medal: for operational service Korea, Malaya or Vietnam etc.

Korea Medal: one day's service on posted strength of operational unit in period 1/7/50 to 27/7/53

United Nations Medal - Korea clasp: any period on posted strength of unit on operational service Korea in period 27/6/50 - 26/7/54 P.N.G clasp. 30 days service. Clasp denotes area of service

Efficient Service ("E.D."): Officers - 20 years commissioned service in Citizen Forces or 12 years continuous efficient commissioned service etc. Recipients are entitled to add letters "E.D." after name.

Silver Star , U.S. for "gallantry in action" in Korea on 22/10/1950 at Battle of "Apple Orchard" - The Silver Star is the third highest US military award designated solely for heroism in combat. This was not posthumous as has been mistakenly reported

Greek Medal: Greek Government Medal for operational service in Greek Campaign 1940-1941

---
Col. Green joined AIF (Australian Imperial Force) on 13/10/1939 with commissioned rank of Lieutenant and served with 2/2 Bn AIF until promoted to C.O. 2/11th on 9/3/1945


Col. Green was appointed to the initial command of 3 Bn, RAR for Korea on 12/9/1950 3 RAR joined the 27th British Commonwealth Brigade under the command of Brigadier Aubrey Coad when 3 Bn arrived in Korea on 28/9/1950. In his 33-day operational command Green led 3 RAR in 3 important battles: the battalion's "blooding" at Apple Orchard on 22/10/1950 while engaged in relief of US 187th Airborne Regiment; Broken Bridge on 26/10/1950 and at Chongju, on 29/10/1950 after the battalion had "marched 31 miles in 12 hours to deal the enemy [a] disastrous blow"

Col Green died of wounds sustained at Chongju on 1/11/1950 (age 30). Chongju was the farthest point in North Korea where the US 8th Army operated successfully.

The 1/11/1950 is a date given as the day the Chinese entered the Korean War, the day, according to General Macarthur, that a "New War" in Korea had begun.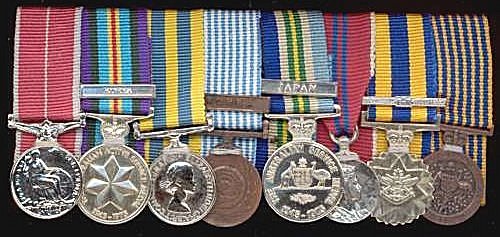 Court mounted brooch clip medal array for long-serving member of the Royal Australian Regiment
Medals are:
British Empire Medal (ER11 Military)

The Most Excellent Order of the British Empire for any exceptional or valuable services between the 1 January 1958 and the 20 June 1974.

Australian Active Service Medal (AASM), bar Korea

Instituted 11 December 1997, recognises warlike service between 3 September 1945 and 14 February 1975. Round 32mm silver-nickel, flagged by the Crown of Saint Edward. Principal design is a Federation Star surrounded by 'Australian Active Service Medal 1945-1975'. The reverse has a horizontal panel surrounded by two sprays of wattle. The ribbon is 32mm wide, having a central red stripe of 2mm, representing the dangers of war, flanked by two yellow stripes of 2mm, 4mm stripes of blue, then two dark green stripes of 4mm and two purple stripes of 4mm. It is said that these colours reflect the 1947-1975 Imperial Medal ribbons. Issued with nickle-silver clasps according to service location. In some instances awarded to non-defence support personnel.

British Korea Medal

Issued in recognition for service in Korea between 1 July 1950 and 27 July 1953. A bronze oak leaf on the ribbon signifies dispatch recognition. A United States of America Presidential Unit Citation was also awarded to members of the 3rd Battalion, Royal Australian Regiment. Issued with two obverse legends. The first features Queen Elizabeth II DEI.GRA.BRITT.OMN.REGINA.F.D.; the second rarer edition features Queen Elizabeth II DEI.GRATIA.REGINA F.D. Although King George VI was still alive until 1952, the medal's obverse only features the first of later version of Queen Elizabeth who reigned from 1953.

UN Medal for Korea Medal

Instituted in 1950. It was awarded on behalf of the United Nations for operational service in the Korean Campaign from 27 June 1950 to 26 July 1954, and in some instances, for unauthorized service in Japan of a unit which directly assisted operations in Korea.

Australian Service Medal (ASM), 1945-75, bar Japan

Round, nickel-silver, medal hanging from a ribbon of light and dark blue, khaki, green and gold, said to represent the Australian Defence Services. A modified shield of the Commonwealth Coat of Arms features on the obverse and a Commonwealth Star overlaid with the recipient's name features on the reverse. The medal is ensigned with the Crown of St. Edward. Nickle-silver clasps denote locality. This medal is awarded for service in overseas peace-keeping missions and other non-like war operations.

QE11 Coronation

Minted to commemorate the Coronation of Queen Elizabeth II. It was not a military medal but was rather awarded to a list of individuals as a personal souvenir. The Governments of the various countries in the British Commonwealth determined the list of individuals to be awarded. The medals were presented following the coronation on 02 June, 1953. A total of 138,214 total medals were issued.

Defence Force Service Medal with bar
National Medal
---