"Corporal Patch, Infantry, a member of the 1st Battalion Royal Australian Regiment, distinguished himself by gallantry in action against the enemy it the vicinity of Kangao-ri, Korea, on 2nd July 1952. As patrol leader of a raiding party sent forward to neutralize a heavily fortified hostile emplacement which threatened the success of friendly efforts in this area, he moved forward with enthusiasm and determination that inspired his companions. Quickly manoeuvring up the steep slope toward enemy bunkers, ignoring hostile fire, he organised his men for the final assault. Without hesitation, he led his patrol in a spirited charge through heavy machine gun fire to the first of the enemy bunkers. Upon reaching its entrance, he discovered that the opening was only large enough for one man to enter at a time. As a comrade attempted to crawl into the tunnel-like entrance, he provided supporting fire. Suddenly, a burst of automatic weapons fire from within the bunker wounded Corporal Patch and his companion.

"Disregarding his wound, he succeeded in pulling his companion from the opening and moved back inside to engage the enemy. Despite a second wound received in this action, he continued with his mission until the position had been neutralised.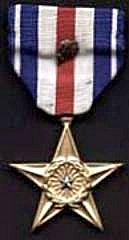 The third highest valor decoration of the United States.