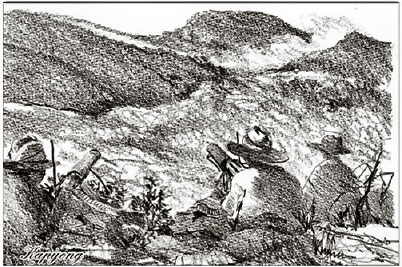 Some of the leading enemy soldiers continued their advance down the road and across the ford and were able to attack Headquarters Company and threaten Brigade Headquarters. Probing attacks around the battalion positions continued throughout the night and strong assaults were made on A Company, where a platoon position was overrun, only to be retaken at daylight.
At about 3.00 a.m., B Company came under heavy attack, although the position was still intact at dawn. At first light, Brigade Headquarters was withdrawn under fire to the Middlesex area and B Company was ordered to leave the position which had been so well defended during the night, and join the other rifle companies on the higher ground. B Company picked up several dozen prisoners on its move to the high ground and later was sent to clear a general withdrawal route to the south. After a three-hour battle, a route was cleared along the high ground to the east of the river, the ford remaining in Chinese hands.
D Company on the right flank and on the highest ground came under intense attack at 7.00 a.m. and this lasted intermittently throughout the day. The enemy continued to suffer heavy casualties and made little progress although a platoon had to be withdrawn to strengthen the company defences. D Company then had a good view of an enemy attack with mortar support against the vacated platoon area and was able to inflict casualties on the attacking troops.
C Company, the rear company on the defended hills, generally had only fairly isolated enemy infiltration to counter. That night the battalion was ordered to withdraw to the Middlesex positions which the Australians achieved with close artillery and tank support. Casualties suffered by 3 RAR amounted to thirty-one killed, fifty-eight wounded and three missing.