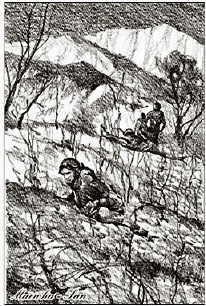 The brigade's other battalion secured further mountain features without opposition. On 10 March, 3 RAR again moved forward to occupy hills overlooking the valley at the base of Maehwa San. The mountain consisted of a number of jagged ridges and its peak-at 2,000 feet-rose 1,500 feet above the valley floor at an average slope of 3 in 7.
On 11 March, a brigade attack was launched with 3 RAR to attack on the right flank and, on their right, 6 ROK Division was to assault the high ground to the east of Maehwa San. At first light the Argylls and Middlesex advanced north and secured the foothills that dominated the immediate area of the valley.
A and C companies of 3 RAR commenced the advance and had crossed the valley floor when A Company came under heavy fire from the village of Chisan to the right. As yet, 6 ROK Division had not attacked and the right flank of the brigade was exposed. A platoon from A Company assaulted the village, killing thirty enemy soldiers and driving out the remainder before heavy mortar and machine-gun fire from the high ground to the east and north-east forced the platoon to withdraw.
In the meantime C Company had continued to attack towards its objectives. By mid-afternoon, however, the company was pinned down just below the ridgeline and was to remain there throughout the night. The Canadians and Argylls (who had reached the summit of Maehwa San) were able to secure their objectives without opposition. Early next morning (12 March), C Company moved onto the crest and advanced to its objective. B and D companies moved up and completed the occupation of 3 RAR's objectives, the enemy having pulled out during the night. The next day, 27 British Commonwealth Brigade was relieved by US troops and moved into harbour near Chipyong-ni.