CHUAM-NI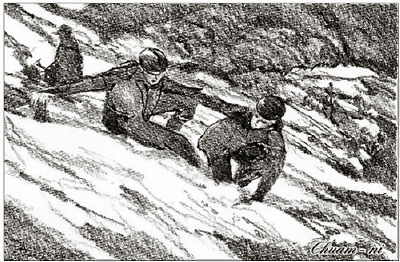 After the fall of Seoul the Chinese offensive halted, the bulk of the enemy forces remaining north and east of the Han River. In late January and early February the UN forces had been moving slowly northwards to close the gap between them and the Communist troops.
On 13 February 1951, 3 RAR was located at Yoju on the Han River, fifty miles north-east of Seoul. Contact patrols of company strength were sent along the western of two routes from Yoju to the French battalion and the 23rd US Infantry Regiment at Chipyong-ni (twelve miles north of Yoju). Considerable enemy movement was reported north and north-east of Chipyong-ni, but only very light contact had been made by 3 RAR's patrols.
On 14 February, a US mounted reconnaissance force was ambushed and severely cut up on the eastern route to Chipyong-ni. Despite this, 3 RAR's patrols continued to report only very light contact.
The Middlesex moved up, crossed the Han, and commenced patrolling forward, with 3 RAR scheduled to follow up. Late in the afternoon the enemy was encountered on Hill 112, an important feature in the centre of the valley and, following artillery and mortar concentrations, the Middlesex successfully assaulted the hill, ejecting the enemy from deep, well-prepared positions. The 3 RAR diggers moved up the left rear of the Middlesex on the high ground west of Toksan-ni and dug in for the night.