CHONGJU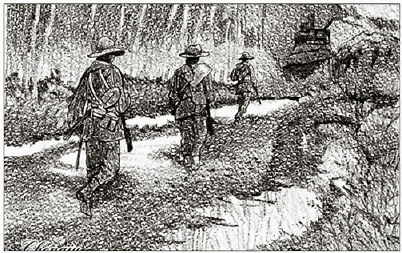 Still leading the advance, 27 British Commonwealth Brigade reached the Chongchon River on 23 October 1950. The crossing was unopposed and, on 25 October, 3 RAR crossed the Taeryong River. After a series of short engagements, the battalion secured a bridgehead and linked up with the Argylls who had crossed further upstream on 26 October.
The mouth of the Taeryong River marks the point on the western coast where the Korean peninsula begins. North of this parallel Korea spreads out to meet the border of Manchuria and stretches north-east to Russia.
On 27 October, the brigade continued the advance eastwards towards the mouth of the Yalu River. On 29 October, and just four miles short of the town of Chongju, 3 RAR took the lead. Late that morning spotter aircraft reported the enemy in strength on high ground across the line of advance. At 2.30 p.m. D Company commenced an attack against heavy resistance and one Sherman tank accompanying the infantry was hit. By 4.30 p.m. D Company had secured its objectives and A Company, supported by tanks, attacked the enemy entrenched to the north of the road. Again, determined resistance was met, but by 5.30 p.m., the objectives had been secured.
B Company moved forward without opposition to a position astride the road between A and D companies. The battalion then dug in and awaited the expected counter-attacks. At 8.00 p.m. an attack developed against D Company and the enemy succeeded in moving to the rear of the forward platoon, although the position was quickly reversed by a two-platoon charge.